CEB's smart meters are more accurate and rapid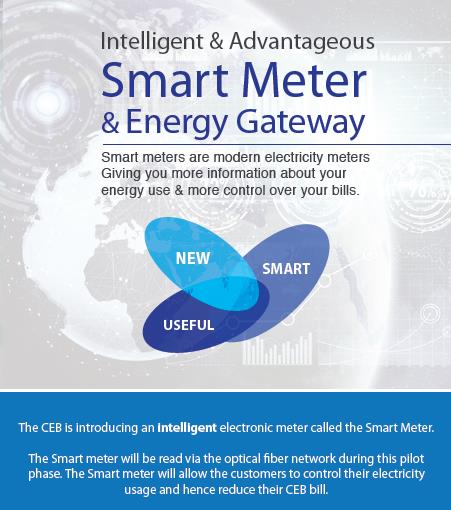 Smart meters are modern electricity meters giving customers more information about their energy use & control over their bills.
An advanced electronic meter called the Smart Meter is being installed. It is more intelligent than the existing electro-mechanical energy meters. The Smart meter can be read via the optical fiber network.
The Functionalities of the Smart Meter
Smart meters provide the functionality that suits our needs today, the functionalities that are available on Smart meters are as follows, inter alia:
- Automatic Meter reading;
- Remotely Connect/Disconnect supply;
- Load profile recording;
- Waveform recording;
- Alarm and event log; and
- Anti-tampering features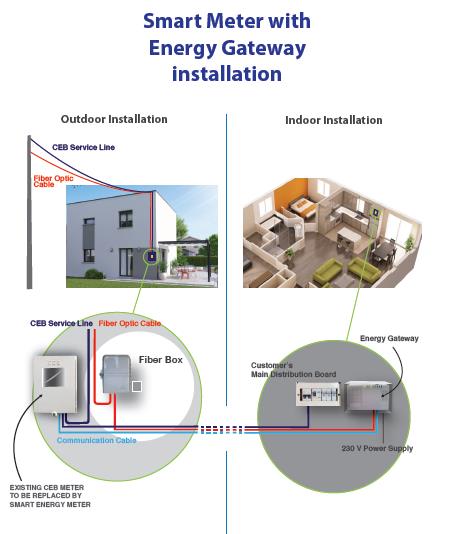 Benefits and advantages of Smart Meter with Energy Gateway installation
Automatic Meter Reading through the Energy Gateway – Reduced meter reader visits;
Upon implementation of CEB's Customer Service Portal, the customer can access the following facilities, through internet, among others:
- To view his/her consumption trends;
- To view projected consumptions;
- To manage his/her electricity consumption;
- To view future scheduled meter reading dates;
- To view, download & pay your bills online;
- To make new requests online;
- To report an electrical fault online.